Fit Force
We are big believers in chronological age being quite different to physiological age.  In other words, age doesn't need to dictate our physical abilities, our involvement in movement and life, or our general happiness and wellbeing.
We run on the philosophy of move it or lose it and the potential of adaptability – your body today is a result of everything you have done up to this point.  That means that if you change what you do, how you move, and how you live, that you can adapt to those new changes and improve upon what you already know.  In our eyes, you CAN teach an old dog new tricks!
Welcome to Fit Force – where you will be a force to be reckoned with!!
Come join Nicci for a fun, challenging workout once or twice at week at Maunu School Hall at 6am. These workouts are 45 minutes long, with no session ever the same. We also understand that everyone enjoys different kinds of exercise, therefore, we cater for a wide range of interests and abilities, and thrive on creating a challenge for each and everyone – not matter what level you wish to work at.
If you are after a stronger, fitter and healthier body; revitalising, uplifting and creative programming; an empowering and energising workout; group fitness that emphasises the traditional and fun components of exercise; an exercise programme that respects the limits of the human body; and a super friendly and encouraging community – then this is for you!!
Fit Force will include, strength training, balance and stability training, mobility exercises, aerobic training, fun and play.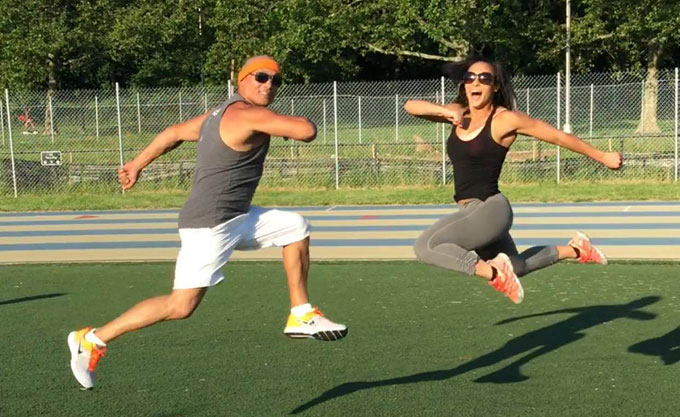 Here at Fit Fix we encourage movement for enjoyment, not punishment. Because exercise should be fun and enjoyable, and it should make you want to come back for more! You should leave with a smile on your face, and a body that feels great! Our classes are created and run by experienced fitness professionals who understand the depths and intricacies of movement and mobility.  All programmes are designed in a way that your individual ability can be catered for, and all exercises (and alternatives of) will be demonstrated by your Movement Coach/Personal Trainer.  And working with the intelligence of the bodies myofascial system and neuroplasticity (fancy words for stretching and mobilising our bodies and learning new ways to move) we help you to get the most out of your body and mind.
Fit Force is for all ages, abilities and gender. No two sessions are the same, each week has a different theme (boxing, strength, abs, cardio, bodyweight), sometimes we use equipment and sometimes we just use our bodies.  We move for the purpose of bettering our functionality and our overall strength and agility.  We teach you how to be aware of where your body holds potential for greater strength and function and we enable you to leave feeling empowered, vitalised, and like you can take on the world.
Now Tuesdays and Fridays at 6am at the Maunu School Hall!!

So if you're a bit bored of the monotony of the treadmill, the sterility of the gym, and fed up with self motivation tactics, then get yourself down to Fit Force with Nicci and get a taste of the action.